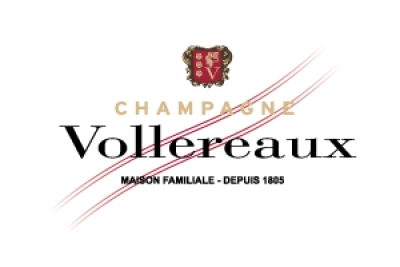 Champagne Vollereaux
48 rue Léon Bourgeois
51530 Pierry France
+33 3 26 54 03 05
Champagne Vollereaux
Notre Maison de Champagne
Founded in 1805, Champagne Vollereaux now owns nearly 100 acres* covering 13 villages of Coteaux Sud d'Epernay in the Marne Valley of Champagne. This includes Pierry, a Premier Cru.

Represented by Hélène and Franck Vollereaux, the 6th generation continues a two-century legacy of family ownership and management. Frank is winemaker, Hélène manages tourism, and their uncle, Jean-Marie Vollereaux, is vineyard manager. Sensitive to the environmental issues of today and tomorrow, and the wellbeing of their consumers, the family is committed to thoughtful stewardship of its vineyards, and remaining a family-owned company.
Nos produits
Champagne Vollereaux, A casual chic style.

Champagne Vollereaux, unlike many wine houses, which cultivate an image of pretension, maintains a tradition where Champagne is not only reserved for great occasions, but can also be enjoyed throughout a meal. At Vollereaux, it is the Champagne that creates the occasion and not the occasion that calls for Champagne. No need to wait for a gourmet menu or a family event to open a bottle, there's a champagne for every type of occasion.
Participations aux Champagne Lounge
Champagne Lounge 2018
Champagne Lounge 2023
Champagne Lounge Asia Singapour 2018
Champagne Lounge China 2018
Champagne Lounge China 2019
L'ABUS D'ALCOOL EST DANGEREUX POUR LA SANTÉ, À CONSOMMER AVEC MODÉRATION.