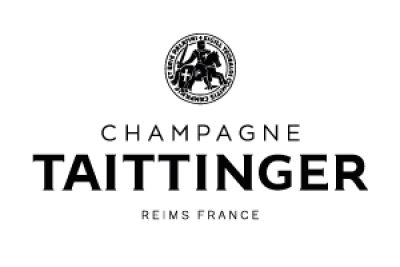 Champagne Taittinger
9, Place Saint-Nicaise
51100 Reims Cedex France
+33 3 26 85 45 35
Champagne Taittinger
Notre Maison de Champagne
In 1932, Pierre Taittinger bought the Domaine and the Château de la Marquetterie, formerly Maison Forest-Fourneaux. As early as 1734, the aforementioned Maison had been working with the Benedictine abbeys, which had the most beautiful vineyards in Champagne. With the arrival of Pierre Taittinger, a new chapter began, as he restored the House to its former glory. In 2007, Pierre-Emmanuel Taittinger took over as head of the House, with excellence as his main ambition: "Having our family name written on a bottle brings with it responsibility and a demand for constant high standards. Our signature encompasses the know-how of the past and a commitment to tomorrow. "Today, it is Vitalie Taittinger, his daughter, who drives this vision. She has been President of the House since January 2020.
Nos produits
Taittinger Brut Réserve is a blend of Chardonnay (40%), Pinot Noir and Pinot Meunier (60%) wines from over 35 different vineyards and vintages matured to perfection. This high proportion of Chardonnay, unique among fine non-vintage champagnes, and a minimum ageing of three years in the cellars, where it reaches the peak of aromatic maturity, makes Taittinger Brut Réserve a delicately balanced champagne, known for its consistently excellent quality all over the world. Taittinger considers it an honour to produce a Brut champagne every year without exception.
The brilliant body is golden yellow in colour. The bubbles are fine, while the foam is discreet yet lingering. The nose, very open and expressive, delivers aromas of fruit and brioche. it also gives off the fragrance of peach, white flowers (hawthorn, acacia) and vanilla pod. The entry onto the palate is lively, fresh and in total harmony. This is a delicate wine with flavours of fresh fruit and honey. Taittinger Brut Réserve, which acquires its maturity during three and four years ageing in the cellar, offers excellent aromatic potential.
Taittinger Brut Réserve is the champagne for any occasion. A symbol of festivity, this wine is the ideal partner of celebration for the happiest milestones in a lifetime.

Taittinger Prestige Rosé immediately stands out for its intense, shimmering hue whose secret lies in the fact that it is a blend, which is more complex and costly to produce. A quantity of still red wine (15%) produced from the best Pinot Noirs from Montagne de Reims and Les Riceys is in fact added to the final blend, to give this cuvée its unmistakable colour and vibrant intensity on the palate. The high proportion of Chardonnay (30%) that completes the blend brings the elegance and delicacy that underpin Taittinger's signature style.
The intense and brilliant body is bright pink in colour. The bubbles are fine, and the mousse persistent. The full nose, wonderfully expressive, is both fresh and young. It gives off aromas of red fruits (freshly crushed wild raspberry, cherry, blackcurrant). On the palate, this wine strikes a fine balance of a velvet texture and full body taste. The flavours are reminiscent of fresh, crisp red fruits. The palate can be summed up in four words: lively, fruity, fresh and elegant, as only a rosé blend can be. Taittinger Prestige Rosé can be enjoyed both early on and at the end of an evening. Deliciously fragranced for an aperitif, it is also a subtle accompaniment to fruit desserts, including fruit tart, fruit salad and red fruit crumble.

Prélude Grands Crus Cuvée is composed of Chardonnay (50%) and Pinot Noir (50%) that Taittinger has selected exclusively from the top Grands Crus vineyards classified as "100%" in the Champagne system. Produced only using first press wines, this rare blend offers the finesse and structure that a great wine needs if it to be laid down for any length of time. On the palate, this wine strikes the perfect balance of the instantly minerally Chardonnay and the strongly expressive Pinot Noir. Aged for more than five years in the cellar, the Prélude cuvée is unique for its remarkable youth and great wealth of flavours.

Taittinger Nocturne is a "Sec" champagne composed of Chardonnay (40%) and Pinot Noir and Pinot Meunier (60%). Blended from around thir ty different vineyards from various vintages, this wine is laid down for four years to age before being disgorged. A 17.5g/l dosage of sugar cane combined with the slow cellar-ageing create a round and smooth champagne that is perfect to enjoy late in the evening.

Taittinger Nocturne Rosé is a "Sec" champagne composed of Chardonnay (30%) and Pinot Noir and Pinot Meunier (70%) blended from around thirty different vineyards. A quantity of still red wine (15%) produced from the best Pinot Noirs from Montagne de Reims and Les Riceys is in fact added to the final blend. A 17.5g/l dosage of sugar cane combined with the slow cellar-ageing of four years create a round and smooth Rosé champagne that is perfect to enjoy late in the evening.

The House's very first "Champagne de Domaine", Les Folies de la Marquetterie is a blend of Chardonnays (45%) and Pinot Noirs (55%), made exclusively from grapes grown at the Folies vineyard that overlooks Château de la Marquetterie, the birthplace of the Taittinger family champagne. A "green" harvest is carried out on the selected plots of vines to ensure the fruit offers optimum sweetness and aromatic maturity. After harvesting, only the juice from the first pressing is reserved. Each plot is vinified in small volumes and certain batches in oak casks.The bottles are aged for five years to bring this wine to complete harmony.

Taittinger Demi Sec derives from the same type of blend as Taittinger Brut Réserve: it is made up of 40% Chardonnay and 60% Pinot Noir and Pinot Meunier. The finished blend includes over 40 "crus" from several different harvests, perfectly matured. The wine is left on yeast for three years before being "disgorged". A dosage of 35g of cane sugar per litre is then added to render it demi sec. This dosage, which distinguishes this wine from Taittinger Brut Réserve, gives an additional sweetness which enhances its suitability to accompany certain sweet dishes.

2015 is remembered for its classic growth cycle. The particularly mild winter gave way to a varied spring with a period of freezing temperatures followed by intense heat. The vines reached full bloom at the usual times, during a sunny and dry month of June. It was a glorious summer with plenty of sunshine and little rain. The ripening of the Pinot Noirs and Chardonnays was given a boost at the end of August by some long-awaited rainfall. The crops were harvested in mid-September under the cool autumnal skies, giving rise to elegant, fresh and fruity wines, worthy of labelling as true "classics". The Taittinger Vintage Brut is exclusively produced from first press wines, blended from 50% Chardonnay and 50% Pinot Noir. The Grands Crus make up a significant proportion at 70% while the other selected villages are all classified as Premiers Crus. Ageing in the cellars for 5 years helps it to flourish. On the nose, the 2015 Vintage is simultaneously precise, pure and fruity. It abounds in aromatic finesse and good minerality. This lively freshness feeds into a bouquet of white flowers - orange blossom, lime flower and honeysuckle - punctuated by the aroma of fresh fruits like lime and white peach, delicately accompanied by notes of lightly toasted almonds. On the palate, the attack is full of energy, precise and focused. This rich, fruity and smooth sensation, with a hint of citrus, provides excellent balance between structure and finesse. Its almost chalky finish caresses the palate with a long and lingering saline tone.

The Comtes de Champagne Blanc de Blancs is made exclusively with Chardonnay from the 5 villages on the Côte des Blancs with «Grands Crus» classification: Avize, Chouilly, Cramant, Mesnil-sur-Oger and Oger. This unique terroir is a strip of land measuring barely 20km. The thousand-year-old chalk is present on the surface, creating a real oasis of water and warmth. White grapes flourish beautifully on this type of soil, from which they derive minerality, strength and aromatic sophistication. To create the Comtes de Champagne, only the «cuvee» is used, for an absolute guarantee of sophistication. Of the wines that make up its composition, 5% have been aged for 4 months in new oak barrels, one third of which are replaced each year. These enhance the inherent qualities of the final blend of toasted notes. During the 10 years it has spent slowly maturing in cellars, time has worked its magic, meaning this vintage comes to us with an extraordinar y energy and ageing potential. All that remains now is for it to write the rest of its story. The moment you open this 2011 vintage, a special occasion in itself, it lives up to all expectations. It is a unique sensor y experience, a visual and gustator y delight! With a beautiful golden shimmer through colours of straw yellow and reflections of gold; the mousse is fine, delicate, creamy and captivating. The nose takes you into a world of maturity and voluptuousness. It exhales delicious notes of gingerbread, liquorice and meringue. This Comtes de Champagne delivers aromas of delicate white fruit: vine peach, cherimoya and mandarin peel subtly blended with light touches of almond pastry. A wine of great mineral power, dense and rich with Chardonnays flexing their iodine character. The generous palate is built upon a chalky structure, giving it charm and precision. This smooth wine takes you on a journey through aromas of candied fruit and sweet spices like aniseed and coriander.

The Comtes de Champagne Rosé 2009 comprises 30% Chardonnay Grands Crus from the most prestigious Côte des Blancs terroirs, combined with 70% Pinot Noir Grands Crus sourced from the Montagne de Reims. The blend is enhanced with 12% red wine from Bouzy Pinots, whose somewhat long pre-fermentation maceration ensures a superb tannic structure with fruit-forward aromas of red and black berries. On the nose, there are invigorating notes of ripe red fruit in their finest aromatic expressions, lending the wine a real energy. Notes of Morello cherry, blood orange and vineyard peach, underscored with a hint of minerality, bring mesmerizing elegance. This is followed by more gourmand notes of wild strawberry compote and candied citrus fruit. On the palate, the incredibly fruity, fine and precise attack gives way to the perception of a fleshy tannic structure, revealing the full power of the limestone Grand Crus terroirs from which it heralds. Held taut by a superb chalky acidity and exquisite freshness, the palate extends in beautiful, aromatic purity to bear witness to the intensity expressed in this Comtes de Champagne Rosé. The Comtes de Champagne Rosé takes time to fully evolve before reaching its peak and benefits from a slow maturation process to guarantee the wine's optimal development. Before being exposed to light, Comtes Champagne Rosé 2009 will have undergone more than 12 years of ageing in the heart of the Saint-Nicaise chalk cellars dating from Gallo-Roman times.
Participations aux Champagne Lounge
L'ABUS D'ALCOOL EST DANGEREUX POUR LA SANTÉ, À CONSOMMER AVEC MODÉRATION.