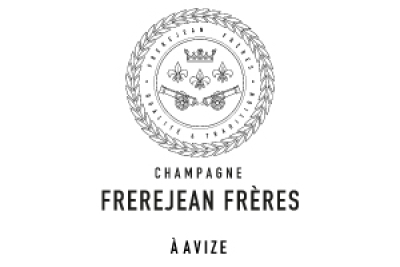 Champagne Frerejean Frères
9 rue Andre Pingat
51100 Reims France
+33 3 26 77 81 81
Champagne Frerejean Frères
Notre Maison de Champagne
A FAMILY PASSION
The three Frerejean-Taittinger brothers build on the deep entrenched family heritage and local expertise to create craft Champagne inspired by modern luxury. Frerejean Frères is found in the most distinguish dining restaurants, prestige hotels and luxury outlets around the world.

KNOW-HOW
Frerejean Frères is a Champagne of character; both complex and elegant, produced from some of the best parcels across the Côte des Blancs. The production process honors the land, with a low-chemical approach, using minimal pesticides and low levels of sulfites in their cuvées. Chef de Caves - Didier Pierson hails from a long line of growers in Avize and meticulously hand-selects the grapes for the champagne.

CRAFT CHAMPAGNES
Crafting a bottle of Frerejean Frères takes at least five years, and up to twelve years for some cuvées. This immense dedication to the aging process allows minimal dosage for the finer notes of the terroir to shine through. Frerejean Frères Champagnes are wines of luxury and character; both complex and elegant. The three brothers take their time...

CÔTES DES BLANCS
Rooted in their terroir of the Côte des Blancs, Frerejean Frères uses small-scale production methods that respect the land. In their quest for authenticity and purity, Frerejean Frères only works with varietals from Premier and Grand Cru vineyards. Only the best grapes are selected with scrupulous care.

A VILLAGE GRAND CRU
Maison Frerejean Frères is nestled between the rolling vineyards in the Grand Cru village of Avize. Renowned for the chalky, oceanic soils, the vines of Avize produce a uniquely mineral driven Chardonnay, exceptionally characterised in Frerejean Frères cuvées.
Nos produits
BRUT NV PREMIER CRU
Awards: 16,5/20 - Jancis Robinson // Gold Award - Japan Women's Wine Awards

Frerejean Frères signature wine is a luxury blend of Chardonnay and Pinot Noir, aged for a minimum of five years, producing an elegant Champagne that embodies the richness of the Frerejean Frères terroir. Low dosage and late disgorgement mean that it is both balanced and generous.

Ideal with an aperitif.

_______


BLANC DE BLANCS NV PREMIER CRU
Awards: 17/20 - Jancis Robinson // 91/100 - Wine Enthusiast Magazine

The Blanc de Blancs is crafted exclusively from Premier Cru and Grand Cru Chardonnay grown in the Côte des Blancs. A blend of vintages and reserve wines contributes to generous and complex aromas. Aged for longer, the Blanc de Blancs is beautifully clear and elegant.

Ideal with a cheese or citrus fruits.

_______


VV26 NM GRAND CRU
Awards: 17,5/20 - Jancis Robinson // 94/100 - Bordeaux Index

Aged for eight years and sealed with a traditional 'agrafe', the VV26 Blanc des Blancs is creamy and mineral. The Chardonnay is sourced from ninety-year-old Grand Cru 'vieilles vignes', including vines that date back to 1926. The champagne is aged in oak barrels for seven months and blends the best of 2008 and 2009 vintage from the Côte des Blancs vineyards.

Ideal with a gamy meat.

_______


EXTRA BRUT 2006 PREMIER CRU
Awards: 18/20 - Jancis Robinson // 93/100 - The Drinks Business

Frerejean Frères pour all of their expertise into the limited edition Extra Brut, because it can only produce it in exceptional years. Harvested after the hot summer of 2006 and aged for eleven years, the Chardonnay and Pinot Noir are sourced from 'vieilles vignes' that are at least forty-years-old. This cuvée follows the trademark and
provides rich and complex aromas.

Ideal with a raw or grilled fish.

_______

ROSÉ NV PREMIER CRU

A luminous salmon and glittering gold dress, this Rosé 2013 vintage is a gastronomic breakaway. The champagne blends notes of freshly harvested red fruits to aromas of a brioche newly cooked. It is a cuvee ready to be appreciated or to be aged in a cellar for a few years. Smooth and well structured.

Ideal with a seafood platter.

_______

CUVÉE DES HUSSARDS 2012 PREMIER CRU
Awards: 96+/100 - Bordeaux Index // 97/100 - Decanter World Wine Awards

Named in homage to Napoleon's light cavalry – who were the first to use the art of sabrage; Cuvée des Hussards is powerful and expressive. Frerejean Frères crafts the cuvée from forty year old 'vieilles vignes' specifically chosen from the Avize terroir that gives an elegant minerality. 2012 is regarded as an exceptional vintage.
Ideal from the aperitif to the dessert.
Participations aux Champagne Lounge
Champagne Lounge 2018
Champagne Lounge 2019
Champagne Lounge 2020
Champagne Lounge 2023
L'ABUS D'ALCOOL EST DANGEREUX POUR LA SANTÉ, À CONSOMMER AVEC MODÉRATION.