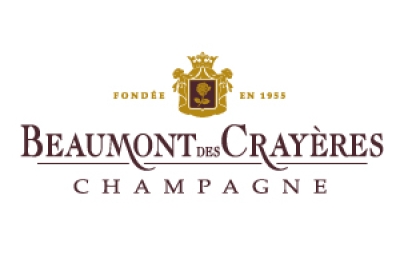 Champagne Beaumont Des Crayères
64 rue de la Liberté
51530 Mardeuil France
+33 3 52 62 04 10
Champagne Beaumont Des Crayères
Notre Maison de Champagne
The story began in 1955 when a handful of winegrowers decided to unite under the same banner. Driven by their desire to reveal this outstanding terroir to the world they worked together to build an independent and socially responsible Champagne House: Beaumont des Crayères.
Beaumont des Crayères is located on the Vallée de la Marne's hillsides in the commune of Mardeuil. The vineyard is mostly planted with the Meunier varietal. The house has developed a unique know-how in the cultivation on this grape variety. BThe House is committed to preserving the Champagne region's unique heritage and has long adhered to a sustainable approach to viticulture. Each generation of winegrowers has worked hard to respect and protect their soils, vines and the environment as a whole. This sense of duty to high quality and the passing on of a savoir-faire has now been recognised by the inclusion of the 'Champagne Hillsides, Houses and Cellars' on the list of UNESCO World Heritage Sites.
Nos produits
Beaumont des Crayères signature style expresses itself with elegance and subtlety to deliver rich and authentic aromas. The cellar master closely monitors every stage of vinification and blending in order to reveal the most authentic expression of the Meunier grown in this outstanding terroir. The utmost care and attention are taken during the ageing process to ensure the development of elegant bubbles and aromas of remarkable finesse over the years. The Champagne House places excellence at the heart of everything it does. Each wine is made from the first press juice called "cuvée" resolutely more qualitative. The vintages and cuvées de prestige are only made from the "coeur de cuvée" (heart of cuvée) which offers excellent potential for cellaring.
For every occasion, there is a Beaumont des Crayères Champagne to match. The 'Grands' range of blended wines with its typical freshness and finesse and the 'Fleurs' range of vintage single varietal wines offers a rich, lush character.
Participations aux Champagne Lounge
Champagne Lounge 2018
Champagne Lounge 2019
Champagne Lounge 2020
Champagne Lounge 2022
Champagne Lounge 2023
Champagne Lounge Asia Singapour 2018
L'ABUS D'ALCOOL EST DANGEREUX POUR LA SANTÉ, À CONSOMMER AVEC MODÉRATION.