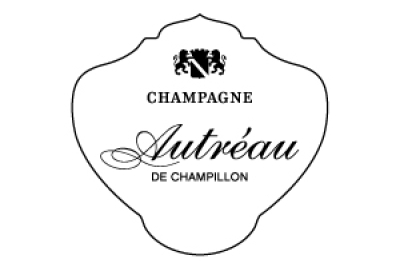 Champagne Autréau de Champillon
7 rue René Baudet
51160 CHAMPILLON France
+33 3 26 59 46 00

Champagne Autréau de Champillon
Vallée de la Marne, Côte des blancs
Notre Maison de Champagne
The family Autréau is situated on the heights of Champillon. Established in 1670 it boasts a fine alliance between tradition and the modern world. Autréau de Champillon is the champagne trademark which is as singular as the generations of growers who succeed one another and who have continuously enriched their "savoir-faire". With such an old tradition, the family Autréau expresses in each of its blend the deep typicity of its soil and the sensual expression of the varieties of the vine. The family Autréau vineyard is made up of 32 hectares situated in the best crus of the "Vallée de la Marne" and the "Côte des blancs". Thanks to their passion and mastery, the grapes, Chardonnay, Pinot Noir and Pinot Meunier produce, after a slow elaboration, champagne wines, which have a very harmonious character.
New certifications from this year : HEV cert. (High Environmental Value) at the highest level, which is level N°3. Sustainable Viticulture cert.
Nos produits
Brut Premier Cru : This blend in which the three varieties of grapes are subtly gathered expresses with a strong gold colour deep fruity aromas.

Extra-Brut Premier Cru : Same as Brut Premier Cru with a lower dosage (only 3 gr./liter).

Rosé Premier Cru : Greedy and meaty, this champagne gives us blackcurrant and blackberry taste. (85% Chardonnay, 15% red wine from the Champagne).

Brut Blanc de blancs Grand Cru : Combines with elegance the ripe citrus fruits and the dried flowers smells to finish with a roasted touch.

Brut réserve Grand Cru : This champagne has fruity (peach melon and raspberry) and hazelnut aromas. (50% Pinot Noir and 50% Chardonnay).

Les perles de la Dhuy Grand Cru Vintage 2015 : This vintage has an intense taste with aromatic notes of exotic fruits, mint, verbena and acacia flowers.(Chardonnay and Pinot Noir).

Cuvée 1670 Grand Cru Vintage 2012 : Daintiness and elegance, the old vines from the « Grands Crus » areas from Ay and Chouilly and a strict selection of the best Cuvées have been selected to give this subtle blend.
Participations aux Champagne Lounge
Champagne Lounge 2018
Champagne Lounge 2019
Champagne Lounge 2020
Champagne Lounge 2022
Champagne Lounge 2023
L'ABUS D'ALCOOL EST DANGEREUX POUR LA SANTÉ, À CONSOMMER AVEC MODÉRATION.