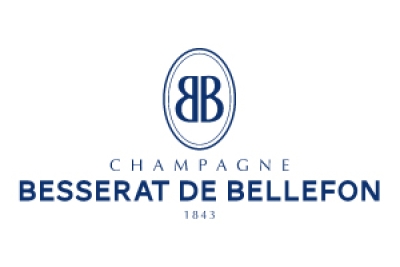 Champagne Besserat de Bellefon
35, rue Maurice Cerveaux
51200 Epernay France
+33 3 26 78 50 50
Champagne Besserat de Bellefon
Côte des blancs, Côte des bars, Montagne de Reims, Côte de Sézanne
Notre Maison de Champagne
A HISTORY INTIMATELY LINKEDTO THE FRENCH "ART DE VIVRE"
Founded by the riverside in Aÿ in 1843, Maison Besserat de Bellefon is now located in Epernay. For almost two centuries, it has regulary been on the tables of the finest restaurants and best addresses in Paris, perpetuating a tradition of great quality by making wines reserved to the exclusive universe of gastronomy, hotels, wine merchants and delicatessens. In 1930, because and due to its clients' request and as BB was striving for excellence, Victor Besserat set the challenge of creating a champagne light to be drunk throughout a meal.
He created the famous "Cuvée des Moines" using a special and unique process within the appellation. A demanding and very light champagne with bubbles 30% smaller than those of a traditional one. When poured into a flute it looks almost like cream.An extremely light wine from Champagne with a silky and creamy mousse: The Besserat de Bellefon Sensation!
The art of vinification according to our Cellar Master is not to undergo malolactic fermentation to preserve the natural origin of the grape variety so their freshness and fruity elegance a lively attack and a better expression of the aromas.
These champagnes, so patiently made, get their generosity of a selection of grapes from more than 50 crus, most of them are sourced from Premier and Grand crus. The Bleu Brut reserve wines come from a perpetual reserve" blend started some 20 years ago. Cédric Thiébault's aim is to produce wine with real
ageing potential.
Nos produits
The Besserat de Bellefon cuvees represent almost a century of a unique and singular process using a selection of the very best Champagne wines.
All our cuvees are produced using a high percentage of Grands Crus and 1er Crus wines.
The Maison Besserat de Bellefon uses less tirage liqueur . The foam that results is lighter, more ethereal.
The deep and fresh cellars allow a slow second fermentation in the bottle, enhancing the development of an unctuous and persistent foam.
The delicate bubbles and lightness of the effervescence give creamy fl avor to the Besserat de Bellefon cuvees.
Besserat de Bellefon is the Champagne especially created to accompany the most extraordinary oenological and gastronomic experiences.
You can feel the Besserat de Bellefon "Sensation" from the very first taste.
Participations aux Champagne Lounge
Champagne Lounge 2022
Champagne Lounge 2023
L'ABUS D'ALCOOL EST DANGEREUX POUR LA SANTÉ, À CONSOMMER AVEC MODÉRATION.